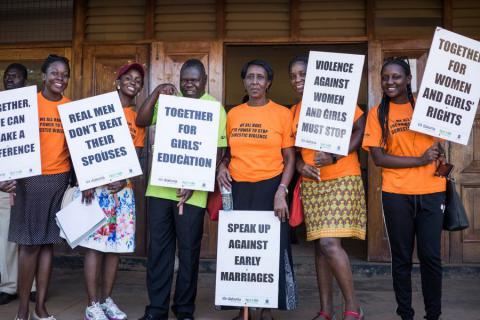 Action for Development (ACFODE) is a National women's interest organization, with vast experience in promoting women's rights and gender equality in Uganda. For the last three decades, ACFODE has been a strong advocate of gender equality, empowerment of women and girls; and the elimination of all forms of violence against women and girls.
ACFODE's Leadership Structure:
General Membership: This is the highest decision-making organ of ACFODE. The general membership elects the Board and is a key resource in programme implementation in collaboration with the secretariat.
Board of Trustees: This is the overall body which over sees the organization and acts as a guardian to the organization with whom the assets and property of the Association are entrusted.
The Board of Directors: It is responsible for policy Development. It monitors policy implementation and provides direction to ACFODE's work.
The Secretariat: This is headed by the Executive Director and is responsible for the overall planning, resource mobilization and implementation of ACFODE policies and programmes.