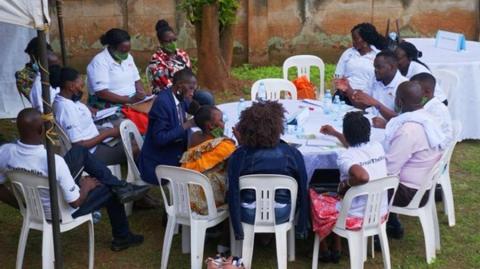 This communique was issued on 8th March 2022, during the Conversation Circles held at ACFODE House in commemoration of International Women's Day 2022. Hinged on three thematic areas namely; (1) Women's safety and security, (2) Women, Land and Housing, and (3) Financial inclusion for Women, the day's discussion resonated well with this year's International Women's Day theme which was "Break the Bias,"
The event was held with the kind support of We Effect under the project: "Enhancing gender equality in member-based organisations through policy advocacy (GEPA)."
The event was attended by ACFODE and WE Effect partners namely Uganda Central Co-operative Financial Services LTD (UCCFS), Uganda Housing Cooperative Union (UHOCU), and Shelter and Settlement Alternatives (SSA). Other participants included LC1 chairpersons, model couples CSOs, ACFODE staff, and members.
In the course of our deliberations, We the participants at this year's ACFODE IWD Conversations Circles noted the following Gaps in regards to;
Women, Land and Housing.
The Majority of Ugandan women are ignorant about the existing laws on land and housing rights in Uganda, moreover, the concerned offices in the public sector are highly corrupt and bureaucratic thereby blocking women and girls from accessing them for information and guidance. There's a weak implementation of the existing laws on land and housing.
For instance, the land act, and housing policy. This could have resulted from a lack of capacities and funding. Women's submissive nature and failure to fight for their rights make them vulnerable to property grabbing and economic violence from men and other perpetrators. Existence of organizational laws which do not allow couples to be members of societies. Cultural stereotypes say that women who build houses are failures in marriage/divorce; They are often referred to in a derogatory way as 'nakyeyombekedde.' Women do not have written will(s) for proper management of their assets in the event of death.
Financial Inclusion for Women.
Financial inclusion for women in all spheres of life is still very low because very few women are part of financial literacy forums thereby limiting their active and effective participation and contribution to financial discussions and decisions. At home, men are considered the head of the home and the last word when it comes to how money is spent and assets utilized.  The majority of women do not own or have access to assets that can be used as security or collateral to acquire loans and access financial services since society neither supports their acquisition nor inheritance of land and properties.
Financial illiteracy among women as a result of the overall low literacy levels among women and girls in Uganda also limits their eagerness to learn, discover and search for knowledge on issues affecting them. Most of the cultures in Uganda are not supportive of women's financial and economic independence. Inefficiencies in the governance of cooperatives which has resulted in public mistrust of the institutions.
Women's Safety and Security.
We noted that cultural stereotypes against women and girls affect their active participation in the security and safety units of the country. For instance, there are very few women in the police, and army hence compromising women's voices on issues affecting them. Male dominance in offices that handle GBV blocks women from speaking up as they (women) are not able to confide in them (men). Very few women are in active politics and sometimes these women are also not able to front women's concerns because they are operating in highly male-dominated circles that block their platforms.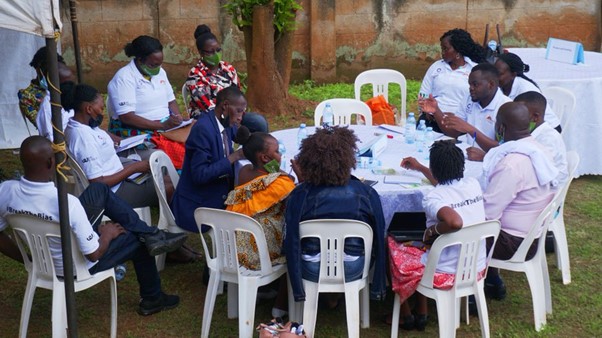 Presence of online GBV i.e., women are judged according to their careers and talents. In some instances, police officers, probation officers, and CDOs judge women according to their status thus contributing to perpetrators continuing to violate women's rights. Lack of awareness of the existing policies on women and girls' safety in Uganda. There is limited sensitization on women's sexual and reproductive rights which is coupled with social beliefs that women are solely child-bearers and don't have a say on their bodies. This discourages women to take on family planning methods. Some cultures further force girls into early marriages and culturally abusive rituals such as female genital mutilation (FGM) all of which compromise women's and girls' safety. Lack of access to education or sought-after higher education courses as some courses are deemed to be for men and boys leave women behind. Most parents encourage teenage pregnancies as a result of the high poverty rates. At times such parents are bribed by the perpetrators to silence and withdraw cases.
Limited implementation of policies on GBV due to inadequate financing, capacity, and monitoring. Cyberbullying of women and girls due to inadequate laws on cyber security and online communication in Uganda.  Similarly, the government lacks the professional capacity and knowledge to handle online violence given that security personnel are not digitally skilled themselves and lack access to most digital platforms. Absence of political will for human rights defenders like the Civil Society Organizations which front issues of women and girls' safety and security. Little investments and financing for women empowerment programs that target women in rural areas. In light of the observations made above, WE the participants realize the following opportunities for women and girls in Uganda:
Women, land, and housing.
Existence of legal frameworks that support women's access to land and housing i.e., National Land and Housing policy. Existence of women organizations that have availed education to women and girls on their rights.  Advances in technology thus more access to information on women and girls' rights. Donor & government support for the implementation of women's financial inclusion programs. Examples of these include (1) Emyoga, (2) Women Funds, and (3) Parish model, all of which are geared towards women and girls' economic inclusion. Gender ratio of women and men in the population, whereby women are more than men in Uganda thereby giving them added advantage for inclusion in the different sectors.
Existence of gender-inclusive financial institutions such as microfinance institutions, banks, VSLAs, SACCOs, and cooperatives. This has increased women's access to financial support. Existing community development groups which many women have joined for support and knowledge sharing on issues affecting. Supporting the environment in terms of the prevailing peace and security which has encouraged women to build permanent houses and own land.
Financial Inclusion for women.
The invention of new technologies such as mobile banking which has enabled women in rural areas to have access to decent financial solutions in the comfort of their homes and communities. Existence of partners like ACFODE, SSA, and UHUC among others who have offered financial literacy programs that are geared toward women's economic empowerment. Existence of organized groups like Village Savings groups and SACCOs which have acted as strong entry points for women to accent funds that they can use for their own development. Presence and utilization of avenues created by the government to empower women and girls. Some of these include Presidential Initiative on Skilling the girl child, 'Emyoga,' and Parish Model fund. Existence of skilled women and gender-sensitive people in finance sectors. These help to front for gender-inclusive policies and products
Women's Security and Safety.
Existence of laws that support women and girls' peace and security. These include; the succession Amendment law, land act, and Domestic Violence Act. Presence of the media i.e., radios, social media, and televisions which cover and report on injustices against women and girls. Existence of local leadership structures to promote peace and security in communities. Presence of leaders in high positions such as a prime minister, vice president, minister of education, etc. who are female. Networks /partnerships with different government offices such as police (child and protection unit). A high number of women form groups to advocate for women's safety and security and challenge negative cultural practices.
With the above gaps, we the participants of this year's ACFODE IWD Conversation Circles:
RECOGNISE that there is the progress made in the achievement of Gender Equality in Uganda despite the existing gaps and challenges.
ARE AWARE that financial exclusion of women and girls cut speed for women and girls' access, control, and use of land for housing, agriculture, and marketing of produce as well as their overall contribution to food security in the country.
RECOGNISE that socio-cultural, economic, and technological barriers impede women and girls from effective contributions to food security, adequate housing, and financial freedom.
ARE DEEPLY CONCERNED about the high levels of teenage pregnancies in the context of climate change, and post the Covid19 pandemic.
STRONGLY CONDEMN cultural beliefs that stereotype women who build houses as failures in marriage or divorce!
REALISE the need to cause mindset change in communities in order to encourage women to own land and housing and take bold steps to financial freedom.
ACKNOWLEDGE the key role played by well-designed, carefully targeted, fully-implemented funding programs in improving women and girls' access to land and adequate housing.
HONOUR the efforts of the government, development partners, the women's movement, and the private sector for the steps taken toward the financial inclusion of women and girls in Uganda.
APPLAUD the great impact that technology-mediated financial services have had on reducing the exclusion of women and girls from financial services and access to information
ENCOURAGE all women of adult age to write wills and register their assets to enable proper management of their assets as well as proper redistribution of their assets to their rightful targeted beneficiaries in the event of death.
REAFFIRM that being enlightened about gender and its related concepts do not hinder a woman at any point to bear her desired number of children. Family planning is meant to encourage women to space children and have manageable numbers since most of the women shoulder the responsibility of taking care of the children.
REMAIN COMMITTED to breaking biases against women and girls' financial inclusion as well as their access to land and decent housing.
WE SHALL CONTINUE TO SUPPORT each other and our partnerships for SDG 5; achieve gender equality and empower all women and girls.
Call for action: Review of existing laws. Call upon our government to come up with and fully implement appropriate policies to address the exclusion of women and girls from financial services and for the inclusion of all stakeholders in the implementation and monitoring process to ensure success. Women CSOs and human rights defenders to create an affirmative strategy to ensure the effective participation of women in influential positions.
Government and all stakeholders to double sensitization efforts of women, girls, and communities on existing laws on housing and land rights such as the Succession law, and ensuring their translation and interpretation into local languages so as to garner community support for women's financial independence. Adoption of alternative justice resolutions mechanism i.e., Legal aid, Partnerships, cultural leaders, including LCs to support especially in areas where land is owned communally.
Encouraging the private sector and other stakeholders to design products and solutions for women and girls inclusion in land and housing. This will also socially empower women by breaking cultural beliefs that women are not supposed to own land. Doubling efforts in the promotion of girl child education and encouraging Integration of Sexual Reproductive Health Rights as well as Sexual and Gender-based violence into the school curriculum. Popularising digital financing and strengthening putting in place rules for cyber security and online communication in Uganda.
Government intervention in the governance and formation of SACCOs since most women and girls embrace them as a ladder to financial inclusion. Implementation of the strategic plan of Uganda Central Cooperative Financial Services (UCCFS) which has one of its strategic goals as gender inclusivity. Cultural exposure visits and engagement of cultural leaders to support women's participation, ownership, control, and use of land.  Conducting training(s) in WILL Writing for women and girls.