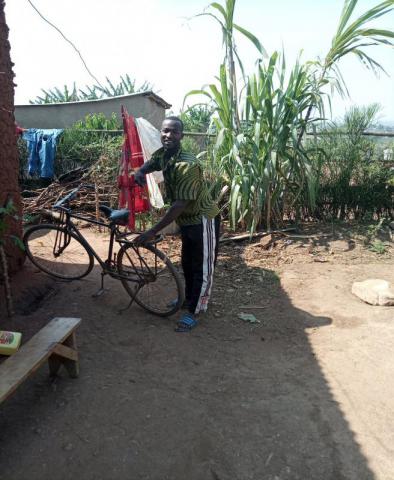 Here is the story of Ephraim Ruhiye a refugee from Burundi with his wife and 2 children from Kyaka II refuge settlement as they share the benefits of undergoing the model couple training on SGBV Prevention and response within their communities.
ACFODE in partnership with EIRENE eV International Christian Service for peace and with financial support from BMZ is implementing a project titled; STOP-Prevention of sexual and Gender Based Violence in Ugandan Refugee Settlements and their neighboring communities in Kyaka II Refugee settlement. The project is implemented in Kyaka II Refugee Settlement Itambabiniga zone and Kyakatwaga village host communities in Kyegegwa District.
Before ACFODE came to Itambabiniga, specifically Humura village, there was a lot of economic violence which would happen at the time of cash distribution where men used to get money and run with it to the bars and hung out with other women living their families in need.
Women were under looked and could not take up any leadership positions or influence decision making at home. Personally I had never recognized or listened to any suggestions from my wife and thought I was the man, head of the family and therefore, no one else at home could advise me. There was also poor planning and budgeting in our home yet I earn from the construction job and from my piggery project and this would lead to low economic progress.
Since I joined this project my life has totally changed, I learnt how to handle my family issues, how to co-exist peacefully with my family. From this project I have learned financial management, I am now able to plan for earnings and it has helped me to develop my projects.
I have acquired knowledge about SGBV, basic counseling, mediation, and interpersonal skills. I have also used the same knowledge to create peace and harmony in my home through having equal participation in decision-making and forgiving my wife where she goes wrong.
Pillar of Focus