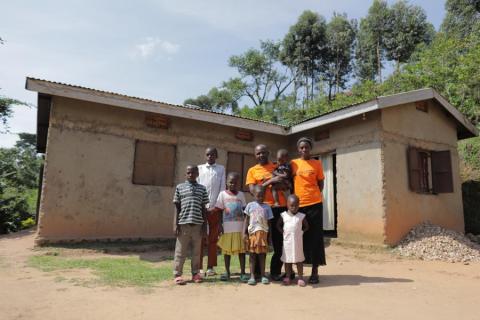 Joining the model couple training helped me understand the effects of practices like Sexual and Gender-Based Violence, early marriages, women discrimination on the community's harmonious living. Byamukama Paul together with his family live in Ndama trading Centre, Kyakatwanga village, and run small businesses together like selling charcoal, frying cassava, chips, mandazi, and pancakes.
Before joining the training his community had many cases of SGBV, child marriages, discrimination of women, economic violence was also common especially during crop harvesting season.
"There were a lot of misunderstandings in our own home which were brought by poor communication between me and my wife. Each one of us had neglected their responsibilities, each time we got a disagreement we ended up fighting and the wife runs back to her father's home. This caused slow growth of our projects and course lack of basic needs due to little income". Says Paul
After the training, he got basic counseling skills, mediation skills, knowledge about SGBV, and how to prevent it. He also learned how to handle and solve marital issues as a couple without fighting and also joint decision-making as a family. Together with other couples, we conducted home to home sensitization, mass sensitization during mass gatherings such as parties, church services, and group meetings and we are now living peacefully in our home since we attended the training about GBV.
ACFODE in partnership with EIRENE eV International Christian Service for peace and with financial support from BMZ is implementing a project titled; STOP-Prevention of sexual and Gender-Based Violence in Ugandan Refugee Settlements and their neighboring communities in Kyaka II Refugee settlement. The project is implemented in Kyaka II Refugee Settlement Itambabiniga zone and Kyakatwaga village host communities in Kyegegwa District and here are some of the stories of change.
Pillar of Focus